Gentle Roof Cleaning Services In Mahwah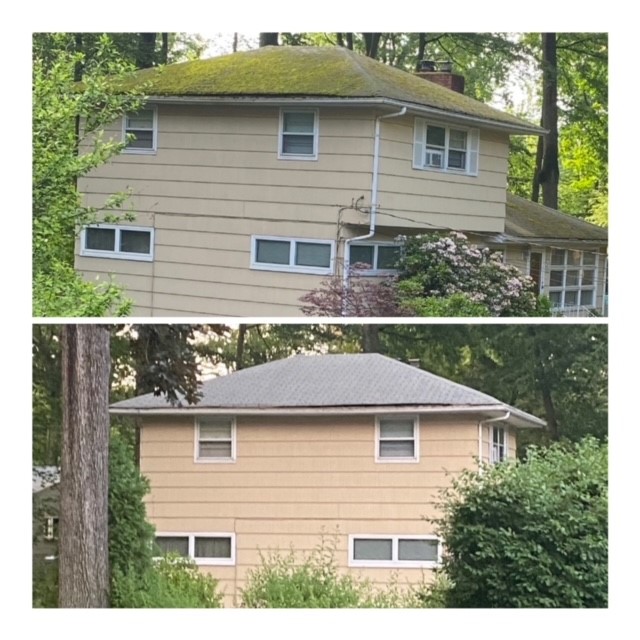 Rent A Husband LLC is the company to trust for safe, gentle roof cleaning services in Mahwah. For an effective and efficient clean, we use a form of low-pressure cleaning method called soft washing. Too many other companies still rely on conventional power washing procedures to clean roofing and shingles, which can be harmful and damaging to your home. Why put the material or structural integrity at risk just to get your rooftop clean? Our soft wash roof cleaning is a vital part of the maintenance and upkeep required to prolong your roof's lifespan and keep it healthy. The sooner you contact us when you're in need of power washing for Mahwah, the better prepared you'll be to stay current with your home improvement checklist.
Soft Washing Specialists
Are you tired of looking at all those black streaks on your roof that are making it dull and unkempt? If you answer yes, then it's time for you to give Rent A Husband LLC a call. With our state-of-the-art soft wash system that will that uses only low PSI and our proprietary cleaning solutions, we will gently wash away Gloeocapsa magma roof stains, moss, lichen, or any other living organisms that grow on your roof.
Keep in mind; roof cleaning is not the same thing as house washing. It would be best if you worked only with a company that uses the appropriate cleaning methods based on the material being cleaned. Regular low-pressure washing services for your roof will help with:
Reduced repair needs
Improving performance
Enhancing energy efficiency
Extending longevity
Boosting curb appeal
Increasing property value
It's important to take good care of your roof which works so hard to protect your home and the people inside. Think of it as a high-quality investment with significant rewards! You can also ask us about our gutter cleaning services that also use soft washing techniques.
Superior Care For Your Rooftop
Many homeowners make the mistake of thinking that power washing is appropriate for roofing and shingles or that roof cleaning isn't necessary at all. Think of cleaning as being as mandatory as repairs-- regular cleaning just helps reduce the need for repairs. Our low-pressure washing is specifically designed to take care of delicate surfaces like your rooftop. The goal isn't to wait until you notice black streaks developing on your roof; the point is to clean regularly enough to prevent them from developing in the first place. No matter what type of roof you have, it needs cleaning:
Asphalt Shingles
Wood Shake
Metal Roofing
Concrete Tile
Clay Tile
Cleaning your roof is a service that's best when handled by industry pros, like our team at Rent A Husband LLC. Make the call today and you'll be on your way to superior roof cleaning for your Mahwah home.
Roof Cleaning Before & After Gallery
Looking for a Mahwah and Bergen County Power Washing Contractor?